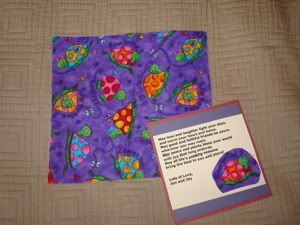 My dear friend
Jen
sent us this awesome quilt square. Jen obviously knows me really well. I love anything to do with turtles & frogs & crabs. I just think they're all so cute so this very bright fabric with turtles all over it was so fitting. I am really digging these brightly colored squares people are sending me.
Jen & Jay's wish was:
May love and laughter light your days,
and warm your heart and home.
May good and faithful friends be yours,
wherever you may roam.
May peace and plenty bless your world
with joy that long endures.
May all life's passing seasons
bring the best to you and yours!
Lots of Love,
Jen & Jay