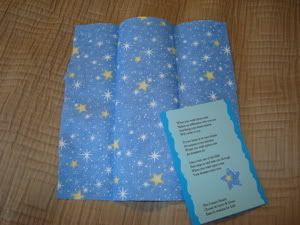 Square #8 was received late last week as well from the Conant family. The square reminds me of Disney and so the wish was very befitting. I don't know if Chrissy has ESP or what, but we have been HUGE Disney fans for a long, long time! Our wedding reception revolved around the Mouse himself and his lovely girlfriend, Minnie.
Here's the Conant family's wish:
When you wish upon a star
Makes no difference who you are
Anything your heart desires
Will come to you
If your heart is in your dream
No request is too extreme
When you wish upon a star
As dreamers do
Like a bolt out of the blue
Fate steps in and sees you through
When you wish upon a star
Your dreams come true
Thanks so much Chrissy, Gerry & Grace!!!