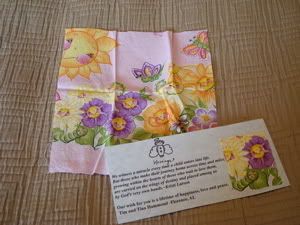 I really love this cheerful fabric. It reminds me a lot of fabric in clothing I wore in the 70's when I myself was a small child. This lovely piece of fabric came from the Hammond family.
Wish read:
We witness a miracle every time a child enters into life.
But those who make their journey home across time and miles,
growing within the hearts of those who wait to love them,
are carried on the wings of destiny and placed among us
by God's very own hands. - Kristi Larson
Our Wish for you is a lifetime of happiness, love and peace.