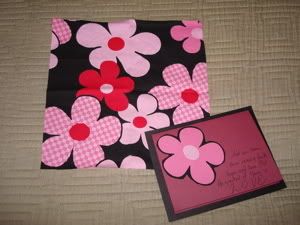 Our dear friends Amy & Jim and their 2 little kiddos Hannah & Evan sent us this quilt square. Amy told me in a recent phone conversation after I called her to tell her I received it that Hannah picked it out all by herself. Hannah did a great job!
On the outside of their wish card it reads: And now these three remain: faith, hope and love. But the greatest of these is LOVE.
And on the inside was written: May there always be love: In your heart, your family and your life.
Amy, Jim, Hannah & Evan